The 2015 Chevrolet Camaro ZL1 convertible.$15,515 after five years.
Production History
The legendary Chevy Camaro is one of the great gifts of capitalist competition. The first Camaro appeared in showrooms in 1966 and was a direct response to the success of the Ford Mustang, which had come on the market in 1964. In just two years, Chevrolet managed to go from design to production of its own "pony car"—with legendary results that still sing in the vehicle's modern iterations.
The pace car for the 1969 Indy 500—a Camaro, of course.
The Camaro filled a void in Chevrolet's lineup for an affordable sports car that would appeal to young, hip car buyers. The defining features of the pony car were two doors, four seats, and the visual and technical specs of a racecar.
Chevy chose the name Camaro as a nod to the French word for "comrade." (The French word for comrade is actually camarade, but an outdated French-English dictionary is believed responsible for the snafu.) The Camaro's name alluded to the close connection between man and machine embodied by the personal automobile.
The base model 1967 Chevrolet Camaro had 140 horsepower, a three-speed manual transmission, and a price tag of $2,466. But glory—and power—came to the vehicle came through available upgrades that, even during the first year of production, offered up to 375 horsepower delivered by an eight-cylinder engine.
The early Camaro also included a convertible option and two trim packages: Rally Sport (RS), with aesthetic improvements, and Super Sport (SS), for those committed to performance. An RS/SS combination had it all.
A 2010 Camaro with the Ground Effects Package.
The Z/28, a race-oriented model, was named for a three-digit alpha-numeric code GM used to certify its cars for stock racing and also explains why the Z/28 quickly built a reputation as a phenomenal sports car.
Sales peaked in 1979 with more than 282,000 Camaros sold. However, larger economic forces, which included rising gasoline prices and economic downturn, resulted in a production stop at the end of the 2002 model year.
Disappointed Camaro fans waited eight years before Chevrolet resumed produced with its fifth-generation Camaro in 2010. The legend was back.
A Chevy ad for the 1969 Camaro SS.
While there are coveted Camaros throughout its decades of fame, the year 1969 remains the most famous, so famous that the Camaro's return in 2010 drew on many of the influences from that model year.
In 1969 GM produced two of the rarest versions of the Camaro through Central Office Production Orders (COPO) 9560 and 9561.
Only 1,015 COPO 9561s were ever produced. They had 425 horsepower and were a signature Camaro for Yenko Chevrolet in Canonsburg, Pennsylvania, a famed muscle-car shop of the era.
Rarer still was the COPO 9560—just 69 vehicles rolled off the assembly line. It had the same roaring horsepower of the COPO 9561 but used an all-aluminum engine, which made the car lightweight, nimble, blazing fast, and extremely valuable.
A supercharged ZL1 model reappeared in 2012. With 580 horsepower, it was the fastest Camaro ever built, going from 0 to 96 km/h in 4.1 seconds and getting up to 192 km/h in just over 12 seconds.
When it comes to movie spots, few cars top the Camaro. From a joyriding scene in Fast Times at Ridgemont High to four classic Camaros featured in Michael Mann's cops-and-robbers thriller Heat, the Camaro has been an easy choice for directors looking to capture a timeless, classic look for their films.
When the Camaro returned in 2010, one of its first special editions was in conjunction with the release of Transformers and featured a can't-miss bumblebee-yellow paint job.
Camaros have also been the feature vehicle in music videos for the Red Hot Chili Peppers, Metallica, and T.I., not to mention abundant references in song titles, from The Ramones "Go Lil' Camaro Go" to Weezer's "Yellow Camaro" and Kings of Leon's "Camaro."
The 1978 Chevrolet Camaro Z28 (post joyride) from "Fast Times at Ridgemont High".
The 2015 Chevrolet Camaro
Engine: 3.6-L direct-injection V-6 with 323 horsepower and 278 lb.-ft. of torque
Transmission: 6-speed manual
Brakes: 4-wheel antilock disc
Fuel Economy: 12.6L/100 km city; 7.9 L/100 km highway
Models: 1LS, 2LS, 1LT, 2LT, 1SS, 2SS, ZL1, Z/28
Exterior Colors: Black, blue velvet metallic, red rock metallic, crystal red tintcoat, red hot, bright yellow, ashen gray metallic, silver ice metallic, summit white
Acceleration: 0–96 km/h in 5.9 seconds (base model)
Handling: Independent rear suspension and variable-ratio power steering; balanced front-to-rear weight ratio
Engine: V8, 426 horsepower (SS models); V8, 580 horsepower (ZL1); V8 505 horsepower (Z/28)
Transmission: 6-speed automatic with wheel-mounted TAPshift controls; 6-speed manual with short-throw shifter (SS, ZL1 models); 6-speed manual with close-ratio gearset and short-throw shifter (Z/28)
Brakes: Ventilated, Brembo 4-piston calipers (SS models); Ventilated, Brembo 6-piston fixed front and 4-piston rear calipers (ZL1); Brembo carbon ceramic matrix ventilated rotors, fixed monoblock 6-piston front and 4-piston rear calipers (Z/28)
The 2015 Camaro SS.

RS Package: 20" silver aluminum wheels; high-intensity headlamps with LED halo rings; body-color shark fin antenna; body-color roof ditch moldings and rear spoiler

SS Performance Package: 20" x 10" and 20" x 11" rear black forged-aluminum wheels; P285/35ZR20 performance tires; 3.91 axle ratio; FE6 performance ride and handling suspension; 6-speed manual transmission; front splitter and rear spoiler in black; flat-bottom steering wheel; suede microfiber shifter
Cargo Management: Cargo area floor mats, cargo net, cargo organizer
Ambient Lighting: Console, cupholder, and footwell areas (blue, red, white, orange, purple, green, or yellow)
Custom Graphics and Decals: Fender hash marks, gill stripes, hockey stick stripes, rally stripes
Exterior Add-ons: Fuel door cover, upper grille insert, ground effects package, hood scoop, molded splash guards, spoiler kit, windscreen (convertible models)
Interior Add-ons: All-weather floor mats, auxiliary gauge pack, door sill plates, interior trim kit, pedal covers
Wheels: 20" 5-spoke black painted, 20" 5-spoke black painted aluminum, 20" 5-spoke polished, 21" 5-spoke with red flange stripe and black spokes, 21" 7-split-spoke chrome, 21-inch 7-split-spoke painted silver
Z/28 Wheels.
Snow Tire Recommendations
Chevrolet notes that all-purpose tires are usually sufficient for winter conditions, although snow tires provide additional traction. Snow tires should be used once driving temperatures fall below 5 degrees Celsius, or when driving on ice- or snow-covered roads.
Specific tire recommendations for your Camaro vary based on the model. They include:
225/65-17 Bridgestone Blizzak WS70
245/50-19 Pirelli Scorpion Ice & Snow
Estimated Payments
MSRP: From $30,845
Financing: With a 20% down payment, 2.85% interest rate, and 48-month term, monthly payments would be $633, with a total of $1,700 in interest paid over the course of the loan. A 60-month term would lower monthly payments to $514, with a total of $2,126 paid in interest.
Getting the Most from Your Camaro
Best Local Drives for Any Season
Queen Elizabeth Driveway: Queen Elizabeth Driveway follows the western edge of the Rideau Canal, running from Laurier Avenue south to Dow's Lake for a total of 5.6 km. (It then becomes Prince of Wales Drive.) Note that it's not the place to test out the raw power of your Camaro: The speed limit is 60 km/h for most of the road.
John A. Macdonald Parkway: Sir John A. Macdonald Parkway exits the city to the west and runs along the Ottawa River to Carling Avenue, with a total length of 9.5 km.
Sir George-Etienne Cartier Parkway: A full 13.6 km, the parkway follows the Ottawa River east of the city through Rockcliffe Park, winding past the Canada Aviation and Space Museum as well as Rockcliffe Airport. It ultimately turns south, crossing Highway 174 (Queensway) before intersecting with Highway 34 and becoming Bearbrook Rd.
Gatineau Park: Several roads through Gatineau Park offer more than 38 km of scenic drives. These include Gatineau Parkway (18.4 km), Champlain Parkway (10.7 km), and Fortune Lake Parkway (4.4 km), among others.
Hikers in Gatineau Park.
Exterior Product Recommendations
Meguiar's: An Irvine, California–based company, Meguiar's produces several exterior cleaning products, including a basic car wash solution, "Gold Class" car wash, and "Ultimate Wash and Wax."
Zaino: Zaino's is highly recommended for darker cars—deep blue or black exteriors. Its line of polishing products has a well-known reputation among Camaro owners for hiding minor surface imperfections picked up over time.
Eagle One: The company's NanoWax Spray, Nano-Polish, and Nano-Protectant are useful for filling small scratches and reducing swirl marks from the waxing and polishing process.
Meguiar's Ultimate Wash and Wax.
Interior Product Recommendations
Adam's Polishes: With a full line of premium car care products and a passionate following within the Camaro community, Adam's polishes are a trusted choice.
Meguiar's: "Quik All Surface Interior Detailer Wipes" are effective and safe for cleaning a variety of components on your Camaro, including plastics, vinyl, and leather.
Zaino: The interior line of products ranges from glass polish to tire gloss and leather soft spray. Zaino products were designed for achieving show-car results.
An interior view of the 2015 Camaro SS convertible.
Road salt is Enemy #1 for your Camaro. A strong sealant can protect its exterior.
Road salt can be extremely damaging to your car, especially in winter climates that may endure six solid months of salt-covered roads.
Paint sealants (synthetic wax), while not providing the same glossy finish, ensure a long life to your car's exterior.
In most cases, a stronger sealant will provide greater protection at the expense of a (temporary) loss of sheen.
Finding the right balance is up to you. You should need to apply the sealant only once each year, as the coat usually lasts for five to six months.
Choosing a silicone-based tire treatment for your tires also helps repel snow, ice, and salt, keeping them in the best possible shape during winter.
Without question, a garage is the best place for your Camaro during the winter months, but if that's not an option, investing in a cover for your car is essential.
Scheduled Maintenance
Like most vehicles, recommended maintenance for the Chevrolet Camaro suggests tire rotation and a check of the engine oil level and life percentage every 12,000 km. Most other key maintenance checks come at the 72,000 km, 144,000 km, and 216,000 km intervals. The Camaro owner's manual provides full details on each service and when it should be performed.
Maintaining/Enhancing Top Performance
While part of scheduled maintenance, replacing spark plugs at closer intervals provides a clean, hot spark that is more effective at igniting the gas and air mixture in car cylinder walls, which translates directly into more power. Iridium spark plugs with fine wire centers offer an ideal blend of efficiency and durability, although copper spark plugs are the best conductors.
To improve handling, consider replacing your rubber bushings—an integral part of the suspension system—with polyurethane versions, which have a longer lifespan and greater rigidity compared to stock versions. The increased performance will be felt in smoother handling and an improved driving experience.
Keep up to date with maintenance for peak performance.
Unique Maintenance Requirements
Two models, the ZL1 and Z/28, require engine air cleaner filter replacement at closer intervals than other models. Manufacturer recommendations suggest replacing the filter for those vehicles every 24,000 km, while the standard recommendation is replacement every 72,000 km.
The ZL1 also includes manufacturer recommendations for replacement of spark plugs at the 96,000 km and 192,000 intervals, rather than an initial replacement at 156,000 km.
Climate-based Maintenance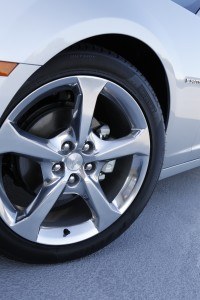 Checking your tire pressure is key during Ontario winters.
Climate-based maintenance for your Camaro, and most vehicles, is about preparation. Ensuring your battery is fully charged avoids the potential of becoming stranded during the winter. Cold weather is especially taxing on car batteries.
Likewise, old windshield wiper blades should be replaced prior to winter, when visibility becomes critical. Finally, make sure your engine coolant (antifreeze) is up to the standards of your area.
Getting your tire alignment checked is important in cold-weather regions as well, as snow tires—with their aggressive tread designs—are more prone to irregular tire wear.
Because of this, you may also need slightly different alignment settings for your winter versus summer set of tires. It's best to get your alignment reconfigured as you make the switch each season.
Additionally, keep a close eye on your tire pressure: Colder temperatures lower tire pressure, worsen gas mileage, and increase wear.
Resale Value
Kelley Blue Book rated the 2014 Chevrolet Camaro as having the best resale value among sports cars. The Camaro retained 64.3% of its original value after three years and 50.3% after five years. So, an initial purchase price of $30,845 could be expected to generate a resale price of $19,833 after three years and $15,515 after five years.
Hours of Operation
Sales
Service & Parts
Sales
Sales
Monday - Thursday

9:00am - 9:00pm

Friday

9:00am - 6:00pm

Saturday

9:00am - 5:00pm

Sunday

Closed
Service & Parts
Service & Parts
Monday

8:00am - 5:30pm

Tuesday

8:00am - 8:00pm

Wednesday - Friday

8:00am - 5:30pm

Saturday

8:00am - 12:00pm

Sunday

Closed
Disclaimer
By submitting your email address or phone number, you allow us, Budds' Chev, to include you on our contact lists to send you information about our products, services and promotions. You may revoke consent at any time by clicking on the "Unsubscribe" link in your email.