Your new favourite Buick? We've got it
Forget what you think you know about Buick.
Buick has reinvented itself, and today's Buick customer is a younger, savvy consumer who's done their homework—and found that the brand offers exactly what they want.
If you've been thinking it's time to get on the Buick bandwagon, have a look at half a dozen of your new favourite rides.
2017 Buick Encore
The 2017 Encore provides today's SUV lover with a host of luxurious options, in a compact and easily maneuverable body that is both sleek and stylish.
The spacious cabin provides a quiet buffer against the outside world, with a driver information centre and colour touch screen display offering instant access to information and entertainment.
A turbocharged engine provides 1.4 litres of efficient power.
And if safety is a concern, you'll be reassured to know the Buick Encore was awarded an Overall Vehicle Score of five stars in safety by the NHTSA.
2017 Buick LaCrosse
Speaking of luxury, the Buick LaCrosse delivers it in spades. This updated version for 2017 offers smart features that build in comfort and style with every drive.
Inside, you'll find incredibly thoughtful details, like Active Noise Cancellation that detects and cancels out unwanted sounds to maintain a top-shelf experience.
Efficiency isn't compromised either, with the LaCrosse getting an estimated 7.5 L/100km highway and 11.2 L/100km city.
And like the Encore, the LaCrosse received a five-star Overall Vehicle Score in safety from the NHTSA.
2017 Buick Envision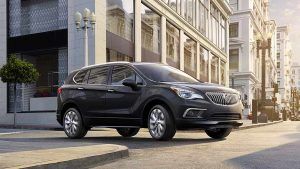 With an estimated 8.4 L/100km city and 11.1 L/100km highway, a Top Safety Pick rating by IIHS and five-person seating, the 2017 Envision combines everything that made Buick famous with all the boxes today's SUV owners want to check off.
And from its sculpted waterfall grille and swooping curves outside, to its premium leather-appointed seats and intuitive centre stack inside, the Buick Envision clearly isn't about just the ride.
Technology abounds inside the Envision, but one of the best features is the ability to seamlessly connect to your favourite mobile device using either Apple CarPlay or Android Auto—stream your favourite music, make phone calls, and even respond to text messages hands-free.
2017 Buick Verano
Just because a smaller sedan works better for your needs doesn't mean that you don't still want "the little things." Don't worry—the 2017 Buick Verano delivers them on a platter. In addition to an array of attractive colours, dual-zone automatic climate control and QuietTuning for a calming cabin experience, the Verano also provides the gently purring power of a 2.4L engine for an exceptional drive every time you get behind the wheel.
Safety features such as the available Driver Confidence Package—with its Side Blind Zone Alert, Forward Collision Alert and Lane Departure Warning—make driving not only enjoyable, but secure.
2018 Buick Avenir
Beginning next year, Buick aficionados will be treated to a new sub-brand: Avenir.
French for "future," Avenir is an appropriate name—designed to take what consumers think they already know about Buick and launch it to new heights.
Both the interior and the exterior of Avenir models will change. Outside, Avenir adds features such as signature black ice wheels, a spectacular three-dimensional mesh grille and distinguished rear fascia with chrome accents. Inside, you'll find an inviting, soothing environment.
Look for embossed sill plates, unique details on the seats and more when the Avenir trim levels becomes available on select Buick models in 2018.
Buick Avista Concept
The Buick Avista Concept is what Buick calls "a sleek, sculptural concept coupe that aims to get the most out of every open stretch and hairpin turn."
Here's what the manufacturer says about what could be the Buick of the future:
"Flowing, uninterrupted lines, blended with advanced technical and surface details, define Avista's interior. A floating centre console extends from the driver to the rear seating area. The latest driver and passenger technologies are accessible through touch-screens on the centre console and instrument panel. Leather and aluminum trim surround the driver and passengers and reinforce the precision of the performance-oriented driving experience.
"Gotta have 'em" features include touch pad door handles, touchscreens that display information on the instrument panel and centre console, Electronic Precision Shift and more.
It's not for sale, but that doesn't mean we can't drool. Cross your fingers and maybe together we can wish it into reality.
Ready to get into a Buick?
If you're ready to go all-in on Buick, we'd love to see you at Budds'—set up a test-drive today and discover your new favourite ride.